Before we directly get into discussing testing eCommerce sites, it will be worthwhile looking at some statistics.
Cross-border shoppers have increased drastically. This eventually leads to increase in payment transactions.
The eCommerce market in India expected to cross 2 Lakh crores in 2016, according to IAMAI (The Internet and mobile association of India) and IMRB.
The Forrester research projections say that U.S eCommerce sales will reach $ 500 billion by 2018.
Ref: https://www.internetretailer.com/trends/sales/us-e-commerce-sales-2013-2017/
E-commerce Share of Total U.S. Retail Sales 2011-2015: The e-commerce share of total retail sales increased more than 4 percentage points in 5 years.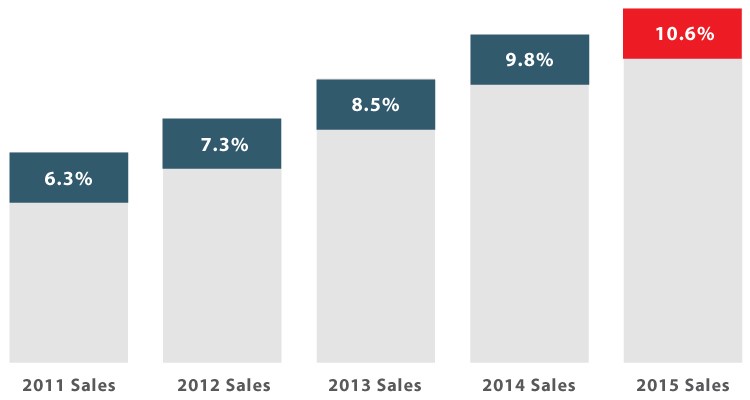 Source: U.S. Department of Commerce, Internet Retailer
Comparing year-over-year growth in total retail, non-store sales and e-commerce.

Source: U.S. Department of Commerce, Internet Retailer
We are seeing the retail landscape changing more frequently, we all are experiencing a shift from a physical to digital retail. Amidst all these, we have also seen high-profile system /technical glitches on eCommerce sites that crippled its sales and to some extent, the trust and goodwill.
Probably the one thing that differentiates eCommerce sites/eTailers/Retailers etc. is – User Experience. Thorough, well-planned, systematic, regular, detailed Testing is one of the first savior for eCommerce sites to sustain in the ever changing market.
Marketing practices have started to shift from being device-focused to people-focused. We are seeing that 'Instant delivery' or same-day delivery services are common nowadays.
Out of the numerous parameters that drive User Experience, some of these include – Competition, User-friendly navigation, secured shopping, Scalability, Reliability, and Performance.
Testing eCommerce software has already gained exponential momentum with the advanced smartphones, innovative apps and new gadgets.
'Changes' to the retail system happen every week, daily or even hourly. There always are new offers, new products, deals, promotions, etc. With changes becoming so overwhelming, Testing becomes a must to ensure customer loyalty and market sustainability.
The latest and most spoken about the approach in the retail industry is the Omni-Channel. It provides the customer with a seamless shopping experience irrespective of the customer shopping online, using a mobile device, talking to the customer care on the phone or in a brick and mortar store.
Retailers must ensure a unified customer experience across devices and channels.
We outline some guidelines for testing eCommerce software –
Creating an account, login
Registered and Guest checkout
Persistent shopping cart
Product details, display, reviews
The Search form, Sort, Filter, Pagination
Recommended products – based on search history, wishlist, etc.
Integrated Payment gateways, Secured shopping
Order modification, Cancelling order, Returning a product
Social integration
Cash on delivery
Customer support page
Customer notifications
SEO (Search engine optimization) – XML sitemap, internal indexing, Meta descriptions, etc.
Cookie auditing
Web standards – HTML & CSS validation checks
Accessibility test – WCAG guidelines, access with screen reader, access with/without mouse
Performance test
Mobile device compatibility test – Smartphone /Tablet, Apple iPhone /iPad, Android, Blackberry, Windows OS
Content detail and validation
Globalization testing
Cross sell and Up sell testing
Browser compatibility test – IE, Chrome, Firefox, Safari, UC (per requirement)