The fundamental reason for employing business intelligence is to make data-driven decisions that will create a positive impact on your business. So having large amounts of processed data that you cannot use to make any decisions is of no use. Likewise, having the vital data you need to make those important decisions buried in a cluttered dashboard or report is also of no use. Actionable business intelligence goes beyond business intelligence by helping us create a roadmap using the data at hand. There might be a hundred different data points in a report, and actionable business intelligence will help us focus on the ones that matter to your need. So in this blog, we will be looking at how you can develop actionable business intelligence and the various challenges that you might encounter.
What is Actionable Business Intelligence?
If you are unsure of what actionable business intelligence is, and how it differs from business intelligence, let's clear it up for you. Regular Business Intelligence only opens up the opportunities to obtain value, whereas actionable business intelligence is what can truly drive your business in the right direction by creating value from those opportunities. To put it in simple terms, actionable business intelligence is the information that you can use to make important business decisions and also help in implementing them.
Benefits of Employing Actionable Business Intelligence
Attain Competitive Advantage
Make Better Decisions
Identify focus points to increase profit
Track performance
Identify customer interests
Predict market trends
Discover bottlenecks & issues
Actionable Business Intelligence Examples
Competitor's Price Range
You can make all the analyses you want internally to find out how much a product or service can be offered by you. But it is equally important to know where you stand amidst your competition when it comes to pricing.
Targeted Demographic
Knowing who will eventually use your product or service is an integral part of making it successful as you will know how to cater to their needs. Instead of just having a generic idea of who your target audiences are, knowing their demographics can help you identify attributes such as age group, location, and so on.
Resource Utilization
Understanding the workload of your employees to assess if they are over or underutilized is a crucial aspect of any business. So keeping track of the number of projects an employee is working on will be a great idea.
Arriving at Actionable Business Intelligence
So the regular business intelligence process has to be followed here as well. Once we are at the reporting stage, the additions we have mentioned can make your business intelligence actionable. We will also explore what these additional steps are using the above-mentioned examples.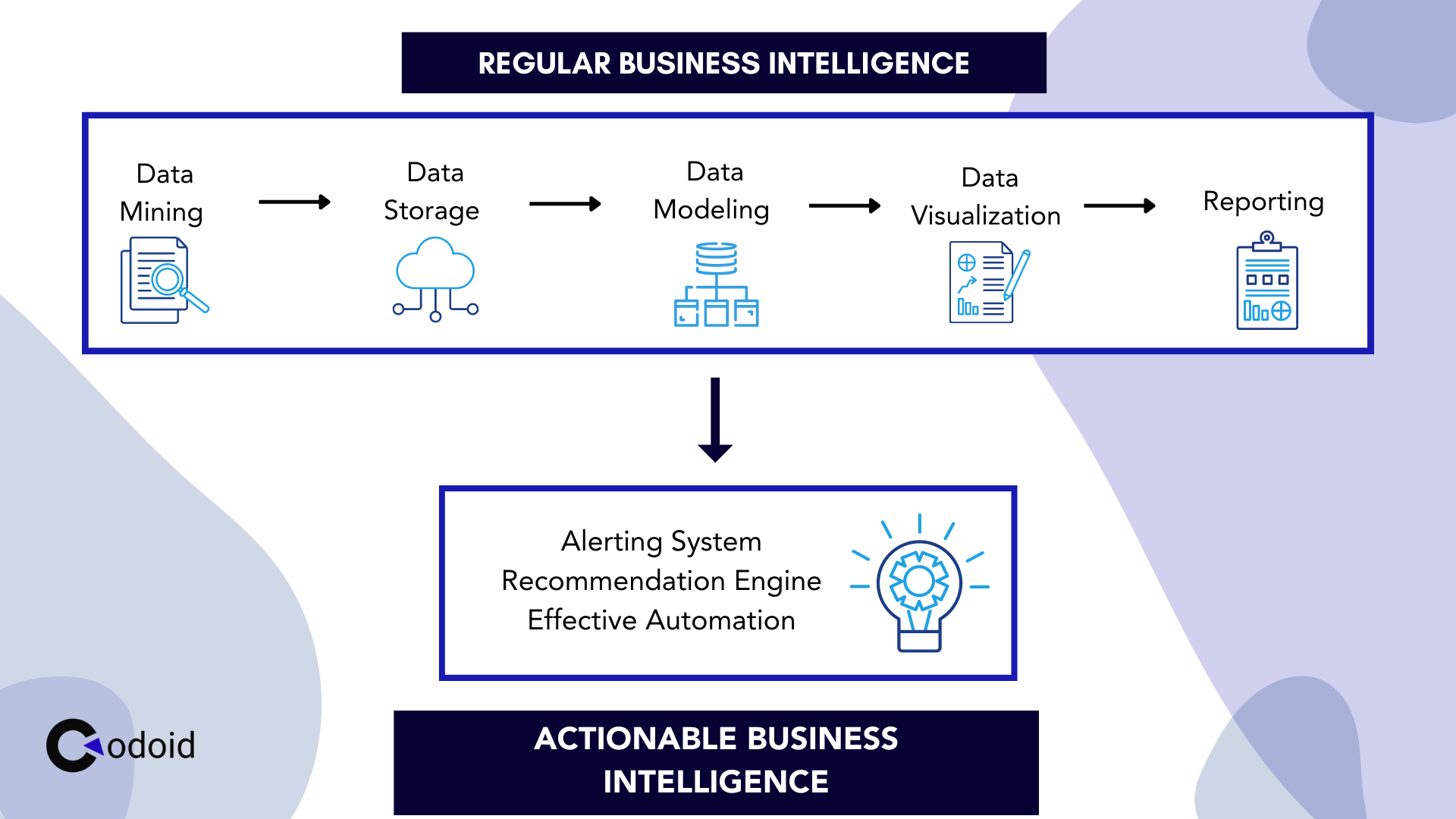 Alerting System
Your dashboard might have a space monitoring the competitor's price range every day. But what if your competitor runs a special offer or is providing additional discounts? The price change should be bought to your attention as you cannot be following every data point on the dashboard. So either a push app notification or an alert beside the data will be instrumental in achieving this goal.
Recommendation Engine
Let's assume your product is targeted toward the youth community. This is where the target audience's demographics come into play as using such data the BI system will be able to identify if your product sparks interest amidst a new demographic of people as well. So based on the data, the recommendation engine should be able to recommend an update to your advertising strategy. Another very simple example would be the recommendations that we see as consumers on platforms like Netflix<, Amazon, and so on.
You can either achieve this by employing the heuristic approach that relies on human observation and knowledge to get such recommendations. If not you could use a statistical approach that relies on machine learning to use all the data at hand to make these recommendations.
Effective Automation
Using only a selective few data points from the numerous data that are available to make your decisions can also be seen as underutilization. But it is extremely difficult to pull data from different data streams (both internal & external) and then feed them into another system to get the insights. In most cases, it is not humanly possible to keep tabs on such large amounts of data. Even if the number of data is less, it does take a lot of time to perform such operations. That is why it is important to automate such actions and even cross-validate them in the dashboard to see how accurate it is as well.
Challenges of Arriving at Actionable Business Intelligence
Obtaining actionable business intelligence insights is not easy as we would have to overcome numerous challenges during the process. But given the scope that we have seen earlier, it would definitely be worth the effort if we overcome these challenges. Being an experienced Business Intelligence service providers, we have listed out the most common challenges one might encounter, and have elaborated on how we can overcome them as well. Most of the challenges we see here would apply when it comes to regular business intelligence as well.
Data preparation from different data sources
Having Structured and Reliable Data
Measuring the Correct KPIs
A well-defined BI strategy
Self-serviceable Solutions
Data preparation from Different Data Sources
This might not seem like a very big concern when you are operating at a very low scale. But the scale of any Business Intelligence is prone to increase over time. So processing all the information from the different sources will become a definite challenge. In addition to that, you will also need to access all the data past the various security and permissions levels. So if there are no proper standards followed for processing the internal information across different departments and divisions within the organization.
But you can overcome these issues by using an effective data warehouse that can function as a hub for all your business intelligence data. Make sure to use the various BI tools such as Microsoft Power BI , Hubspot and so on that are available in the market today to integrate the data effectively. The lack of such integration will create data silos and prevent your data from ever transforming into actionable business intelligence.
Having Structured & Reliable Data
It goes without saying that the data you are using to make the important business decisions should be concrete. Having poor data quality is the same as building something with a weak foundation, it will definitely crumble. In addition to that, unstructured data will result in a lot of time wastage as you would have to spend hours cleaning the data and modeling it. If having the right data is important, so is having it at the right time.
Measuring the Correct KPIs
Since there is such an abundance of available data, it is very easy for us to lose our way by focusing on the wrong KPIs (Key Performance Indicators). Apart from the large quantity of data, the process behind the data processing should also be simple enough as a convoluted business intelligence process makes it hard to focus on the correct KPIs. Few businesses also limit themselves by measuring just the financial KPIs even though they are truly not enough. So KPIs such as the rate of progression and level of performance should also be of prime importance. Utilizing an effective KPI dashboard will enable organizations to assess their performance against both internal and external benchmarks.
A well-defined BI strategy
The one simple solution to avoid most of the problems you face will be to have a well-defined Business Intelligence strategy that is tailored to your needs. Proceeding without a proper plan is equivalent to flying blind and it will not do you or your business any good. With the amount of data and dynamic BI reporting tools available at your disposal, you will be able to take your BI process to the next level. So build a strategy that takes the existing process into account, validate your solution with a Proof of Concept, and choose the best tools for your needs. By doing so, your data will flow in the right direction without any hindrances and ultimately become a value generator.
Self-serviceable Solutions
The entire objective of having visually rich BI dashboards is to ensure that these highly potential solutions are self-serviceable in nature. Having a complicated process that demands specialized end-user training compromises all the possible benefits.
Identify which solutions are essential for making the decisions and keep them at the forefront.
Make sure the solutions don't require technical expertise.
Ensure these solutions are accessible on portable devices.
Make sure the employees are equipped to handle the dashboards effectively.
Keep the Installation & Deployment process simple.
Ensure that everyone who has to adapt to the technology move on from the traditional methods they are accustomed to.
Conclusion
Hopefully, you now have a clear understanding of what actional business intelligence is, and how it is different from conventional business intelligence. Our vision as a Business Intelligence Company is to always ensure our insights are actionable. We ensure that the true potential and value of business intelligence are realized by making them actionable. We will be publishing more informative content and recommend you to subscribe to our newsletter to stay updated.