Long gone are the days where websites were predominantly accessed from desktops as people have started accessing websites from laptops, tablets, smartphones, and even smartwatches. There are countless models that have different screen resolutions and sizes under these categories as well. So you will be in deep trouble if you're website doesn't have a responsive design, as you will be driving away a massive chunk of your audience due to the poor design. It is not just about the aesthetic feel your design has to offer, functionality is also a crucial part of being responsive. Though bounce rate is an aspect to worry about, your website will not even be able to rank and reach people if your website isn't mobile-friendly. Now that we have established why we need to test your website at different screen resolutions, let's find out how.
There are various solutions that will enable you to test your website at different screen resolutions. As a leading QA company, we have shortlisted the best options for this blog.
Dev Tools
Understanding the growing need for websites to be responsive, many prominent browsers have made it easier for testers or developers to check it using Dev Tools. According to reports, the 4 most popular browsers are Google Chrome, Safari, Microsoft Edge, and Mozilla Firefox.
In most cases, a regular right-click on any part of the website you want to test will show an option called 'Inspect' in the dropdown list. You can click on it to launch the Dev tools and the emulator along with it.
Once Dev tools has been launched you can define the screen resolution as you choose or even choose from the list of predefined screen resolutions that come along with it.
If you are testing a new device, then you can even add the custom resolution and save it by giving a name to reuse it whenever needed. You can refer to the below visual to see how it can be done in a few easy steps.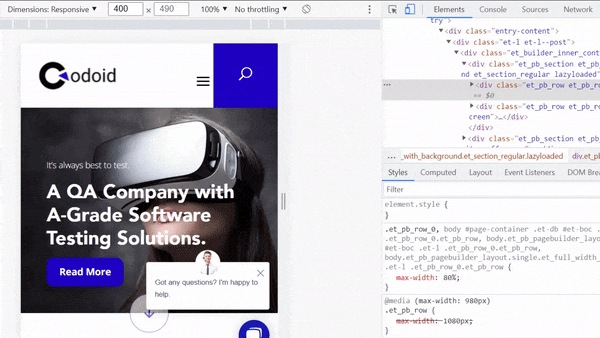 Unlike Google Chrome and Microsoft Edge Mozilla Firefox will not launch the emulator directly. Once the Dev tools window has been launched, you have to look for an icon that denotes a mobile and a tablet together and click it, or press ctrl+shift+M to launch the emulator.
When it comes to Safari, you first have to follow this series of actions.
Click on 'Preferences' -> Advanced.
In the menu that appears, you have to enable the 'Show Develop menu in menu bar' checkbox.
Now, you will be able to view the 'Develop' menu in the menu bar. Click on that and select the 'Enter Responsive Design Mode' option.
The conventional way to launch Dev Tools for the other 3 browsers would be opening the 'Menu', navigating to 'More Tools', and then opening Developer tools.
BrowserStack
The first option we saw makes use of emulators to help test your website at different screen resolutions. But if you are looking to take it a notch higher and perform the test on real devices, then definitely buying all the devices in the market will not be a viable option. Here is where a tool like BrowserStack will come in handy as it is a cloud-based platform that will let us use real devices to test. Apart from using real devices for better assurance, BrowserStack will be instrumental in testing cross-browser functionalities. As one of the best mobile testing companies, we have used BrowserStack to great success in many of our projects. Though there are other similar tools, we believe BrowserStack to be the best.
Look beyond the norm
The conventional screen sizes we can see on a laptop or desktop are 1920×1080 and 1366×768. But many users are beginning to transition to desktop monitors and laptop displays with 2K & 4K resolutions. Also keep in mind that beyond the 16:9 aspect ratios that we are used with, there is also a rise in the usage of 16:10 aspect ratio displays that have different screen resolutions. These kinds of screen resolutions are mainly used by creators and it is sure to catch on as Apple has also been using this aspect ratio with their new range of laptops. The mobile devices we use nowadays are all touch screens, and many laptop displays are also getting touch displays. So make sure to design your websites for touch input to stay future-proof.